Key Challenges and Solutions – HTC VIVE 2020 Developer Survey Takeaways
 To be the best advocate for the VR developer community, we know we have to listen to the triumphs as well as the setbacks developers face. In part one of this series, we covered the key trends and opportunities available to VR developers. In part two, we asked respondents to share the biggest challenges they've encountered when building their VR projects and how they've overcome these hurdles. 
Hardware Hardships
When asked what the main hardware challenge impacting the market today is, 4 in 10 developers shared that their biggest concern was the cost of hardware to end-users.
As the market matures, HTC VIVE is exploring ways to make VR accessible to more audiences. From the modular design of the VIVE Cosmos to the standalone VIVE Focus Plus, which does not require a PC to run, we're continuing to address this challenge for both consumers and developers.
The second hardware-related challenge picked by developers was tethering. Surprisingly, developers for stand-alone devices cited this as a challenge the most, suggesting that the next generation of headsets presents new challenges for developers to tackle.
Drawbacks of Developer Tools
When asked to share the biggest drawback they've noticed in current developer tools, 29% of respondents lamented that the server-side (multiplayer/social) tools are not robust enough.
 "Separate IDC research has shown that multiplayer games are less common in VR than on PC, console and mobile gaming platforms generally, so it may be these two findings relate," said Lewis Ward, Research director, Gaming & VR/AR at IDC. "Enterprise VR developers were the most concerned with this challenge, although it probably has more to do with customer server integration broadly than with challenges related to social interactions among VR users specifically."
The second leading dev tool drawback, at slightly more than a quarter of respondents (26%), was the limits of commercial game engines. Consumer-focused developers and those in North America were the most concerned with today's game engine limitations. A close third was UI tools with 24% selecting that, "the available user interface options aren't great".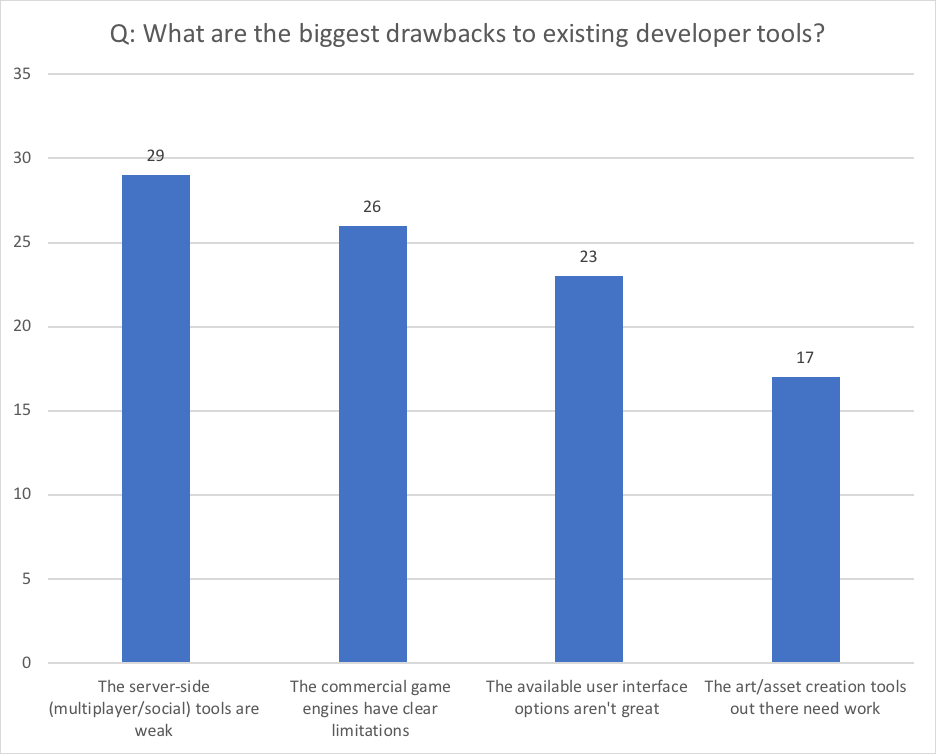 Hurdles to Monetization
When asked what the biggest challenge developers face when building and commercializing VR-based apps, limited audience adoption (27%) was the leading answer among those surveyed.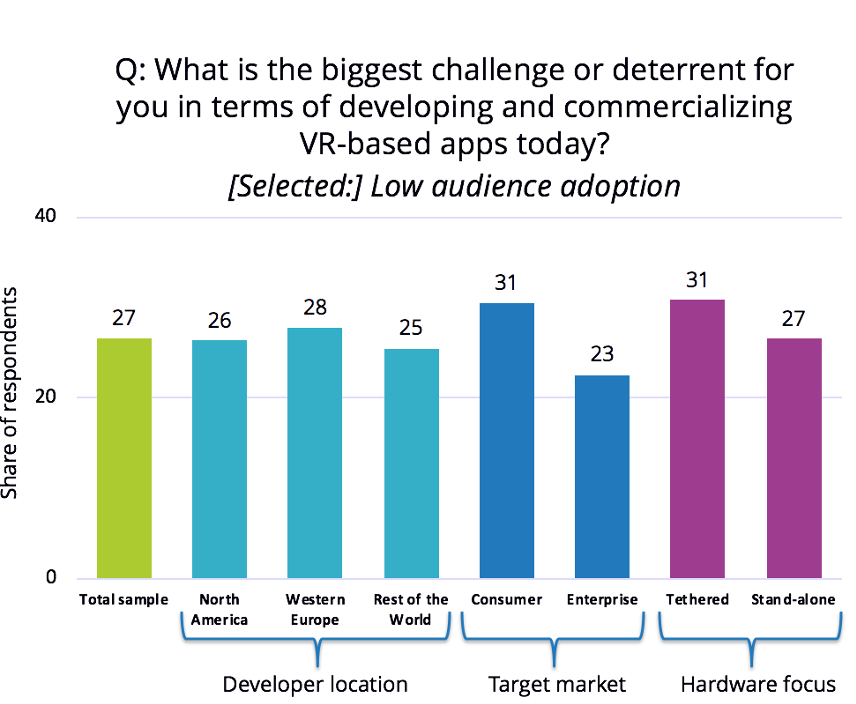 However, this challenge was not equally felt among all respondents. A gap emerged between consumer and enterprise-focused developers with those building for consumers citing low adoption more frequently than those who developed for the enterprise. It was also apparent that developers of tethered headsets seemed more concerned with low audience adoption than those developing for standalone HMDs.
"This gap may be a product of enterprise VR developers believing that they have more of a built-in audience or that they find that enterprise projects are more readily funded compared with those on the consumer side," said Ward.
Nine points above the next deterrent, low audience adoption was on the minds of the majority of respondents. The second most cited important issue for developers was that investors/project funders were concerned about the industry's prospects (18%) followed by user experience challenges (14%).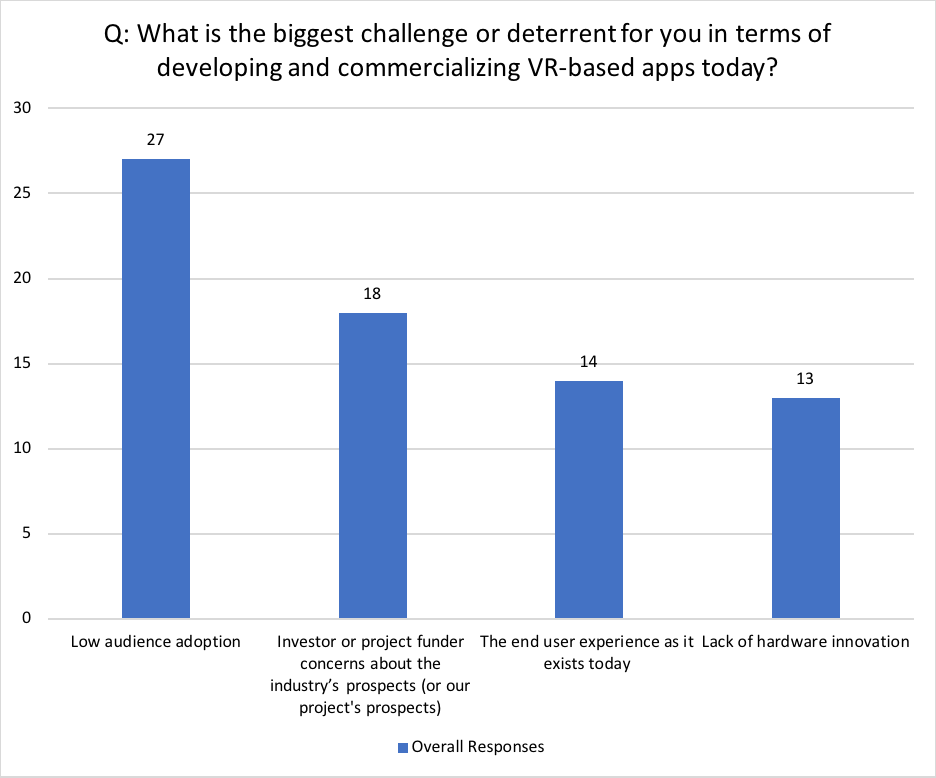 Overcoming Obstacles
When asked if developers had ever run into a similar challenge before, over 52% shared that they had. Of those who had faced a comparable obstacle in the past, 17% stated that were able to find a solution to their problem. We've rounded up some of their best tips.
When it came to solving technical problems, the developer community proved to be self-sufficient and inclined towards action. This isn't surprising. Asked what was the most exciting about developing VR-based apps, 41% stated they enjoyed being involved in creating something that has never been done before. With that pioneering spirit, VR developers are ready to tackle problems that may not have been dealt with before. Below are a few common examples shared by respondents on how they overcame technical issues:
"Mostly trial and error, changing in engine or adding code to fix things." 
"Building our own tools, or in the case of lack of documentation/examples, trial and error." 
"Overcoming a complicated end-user experience in a previously shipped app by paying constant attention to feedback and being agile about correcting it."
With the majority of developers concerned about low audience adoption and convincing investors of the ROI potential of their project, finding the right path to funding is a crucial step in the development process. Respondents in both the enterprise and consumer markets shared how they were successful in securing support:
"We worked out a firm investment and ROI plan that is achievable and economical. The efforts were mainly targeted towards product development and innovation to convince [the] investor to put his money in the project."
"By beginning to embed the technology within the business to improve communication and reduce travel requirements, winning people over with the simplicity and power of the technology."
"Finding the right person within the organization to help sell it in."
"Spending more time learning about the potential customer/client and taking the time to expose them…to relevant content to get them to understand the potential."
Some found that the best way to convince potential investors, partners and customers was to show, not tell. When asked how they overcame their biggest challenge, a number of developers shared that they used the immersive power of VR to highlight the merits of their work:
"Delivering demos and creating prototypes for free."
"Integrating the right partners with access to the technology required. Running a workable demo for the financiers."
When developers were unable to secure outside funding, they again called upon their pioneering spirit to go it alone:
"We could not find anyone to fund our project so we created our own company and worked in our spare time to get it done over the course of a year."
"So far we have self-funded the operation and have been able to develop a robust, enterprise-level VR platform with strong analytics and performance data capture."
At VIVE, we know that regularly connecting with the developer community is essential to building a healthy ecosystem with the best end-user experience. We're proud of their innovative spirit and their ability to tackle new challenges each day. From our early-stage investment fund, VIVE X, to our VIVEPORT partnerships, we're constantly looking to support the developer community to help bring the best enterprise and consumer VR experiences to market and ensure their success.
While we can't physically meet up with our developer partners at our favorite events this year, we encourage developers to connect with us on our Developer Community Forums and stay up to date on the latest developer news through the Developer Portal.
The post VR Developers Share Their Biggest Challenges and How They've Overcome Them appeared first on VIVE Blog.
By: Vive Team
Title: VR Developers Share Their Biggest Challenges and How They've Overcome Them
Sourced From: blog.vive.com/us/2020/08/05/vr-developers-share-biggest-roadblocks-theyve-overcome/
Published Date: Wed, 05 Aug 2020 14:48:55 +0000