Key Opportunities and Trends – HTC VIVE 2020 Developer Survey Takeaways
Each year we survey our VIVE developers to gain a better understanding of the community. From who they are to what motivates them, what projects they're tackling and the challenges they face, listening is how we learn to be the best advocate and partner for the VR developer community.
In January 2020, HTC VIVE teamed up with the market intelligence group, IDC, for our annual VR developer survey. With over 350 respondents from across the globe, we got an insider's look into the current state of VR as the developer community shared their insights, wins, hurdles, and projections for the industry.
We're sharing all of the insights from those findings in this two-part blog series – from the key opportunities and trends that emerged to most cited challenges, and finally, how developers overcame the most common obstacles they came across. To start, we rounded up the key opportunities and top trends for VR developers in 2020:
Increased Corporate Adoption
When asked how the industry has changed the most in the past year, over half (53%) of respondents noted the increase in corporate adoption. Developers are finding that more companies are incorporating VR into their processes and shifting their priorities accordingly.
Though this survey was conducted before the widespread effects of COVID-19 impacted the market, the past few months have only ramped up interest in enterprise and commercial VR. Businesses are now looking for innovative and impactful solutions to communicate and collaborate with their employees and customers and even to remotely train their workforce. Many are now turning to software like VIVE Sync to set themselves apart from the competition.
"Partly driven by this increase in commercial and enterprise adoption, IDC projects VR headset shipments will top 5.7 million worldwide in 2020", said Lewis Ward, Research director, Gaming & VR/AR at IDC.
The next three most cited changes in the past year showcase positive signs for the industry as well. Better development tools and documentation (43%), wider end-user adoption (42%) and more developers entering the space (41%) are all signs the market is maturing and that developers are getting the resources necessary to build quality experiences.
A Shift in Focus
With this increase in commercial VR use, it's not surprising that more developers than ever are focused on enterprise audiences. In fact, more developers are now building enterprise applications (46%) than consumer experiences (42%) according to survey results. Compared to last year's findings, developers focused on creating business solutions jumped 14% this year.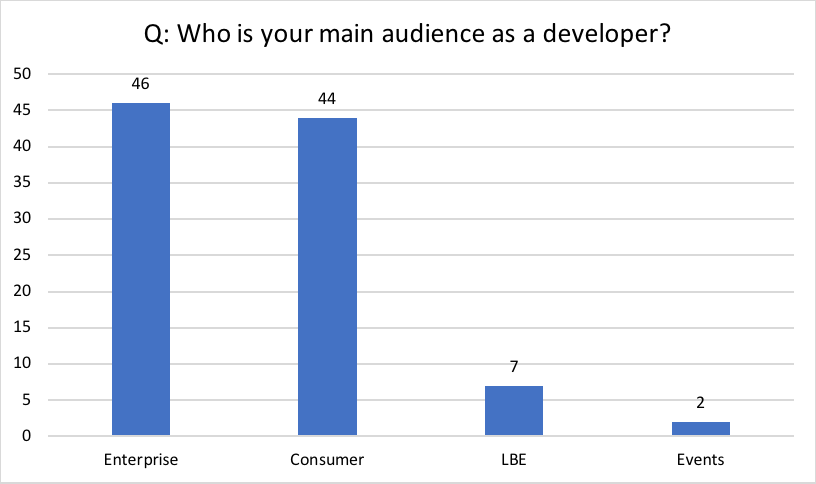 We're seeing this shift in the market as well. VIVE X, HTC's early-stage investment program, recently shared that 17 portfolio companies raised additional rounds of funding in the past year with the majority of capital going to enterprise solutions in healthcare and employee training. Investors are increasingly bullish when it comes to enterprise VR tools and software.
But Gaming is Still King
Despite the traction enterprise applications are making, developers still believe that gaming (69%) is best primed for growth this year, followed closely by training and simulation (63%), and then education (41%). This order did not change over the last year, reaffirming developer confidence in these areas for growth.
With the recent release of the AAA blockbuster, Half Life: Alyx, and games like SUPERHOT reaching double platinum status, developers are finally finding mainstream success with consumers. As VR usage and awareness continues to rise during worldwide stay-at-home and social distancing orders, more gamers are turning to VR for entertainment.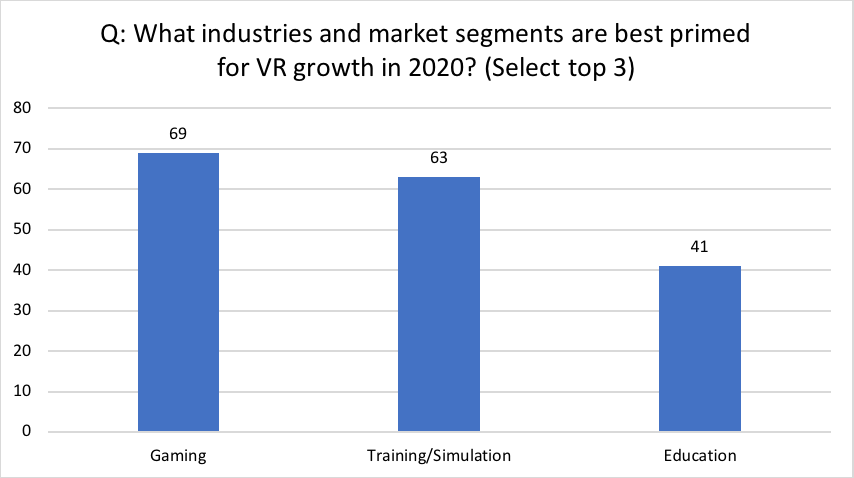 Workforce training and simulations are also becoming increasingly popular across industries due to their effectiveness and cost-savings nature. From safety and hazard training solutions like VIVE's ElevateXR or training applications that focus on soft skills such as those from VIVE X companies Talespin or Bodyswaps, developers are finding training solutions for the workplace to be a worthwhile niche.
Multiplatform Strategy
As the market matures, multiplatform development continues to be the norm. Three-quarters of those surveyed shared that they were developing their next project for more than one VR platform. Developers working on projects for both tethered and stand-alone HMDs believe that being platform and hardware agnostic will enable greater success.
HTC VIVE has always encouraged developers to pursue a multiplatform business strategy, whether it be expanding hardware compatibility or publishing titles on other platforms in addition to VIVEPORT, to provide the most avenues for monetization and choices for consumers.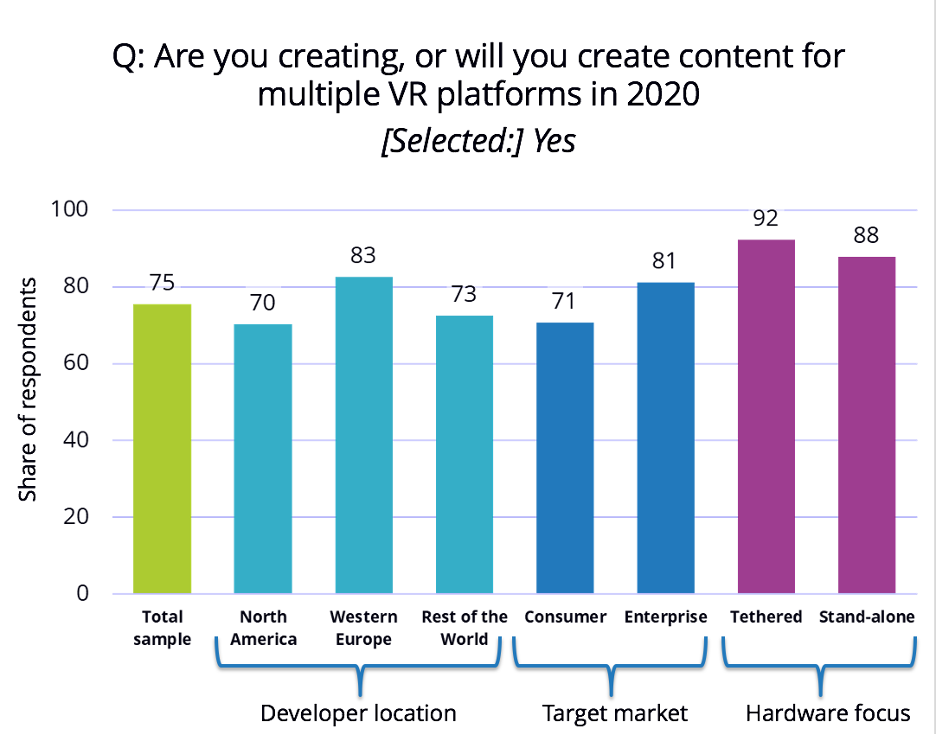 Stay tuned for part two of this series as we look at the developer community's largest obstacles and how to work around them, posting to the VIVE blog on August 5th. In the meantime, connect with us on our Developer Community Forums and stay up to date on the latest developer news through the Developer Portal.
The post VR Developers Share Their Unique Market Insights appeared first on VIVE Blog.
By: Vive Team
Title: VR Developers Share Their Unique Market Insights
Sourced From: blog.vive.com/us/2020/07/29/vr-developers-share-unique-market-insights/
Published Date: Wed, 29 Jul 2020 13:11:17 +0000
Did you miss our previous article…
https://vrheadset.co.technology/3d-for-the-enterprise-the-inherent-effectiveness-of-xr/